Humans are constantly thinking up and creating new ways to solve the little problems that bring us all down as we bumble through life. Some inconveniences, however, just seem impossible to overcome. Enter the glorious subreddit known as /r/lifehacks, where geniuses from all walks of life come together to offer brilliant, simple solutions to those painfully irritating dilemmas that confront us each day. Tired of having three separate remotes for your TV, and wish you could combine them all into one? Solved. Need more space on your countertop while cooking? Solved. A cure for your persistent existential dread? Well… We'll get there one day.
Scroll down to see the life hacks that will change the way you do everything from now on. You might even feel like a changed person by the end of this post. Spread the revolution, and share this with the people in your life who need to get woke.
#1 Lost Your Dog?
#2 When You Have To Hang Something With Exact Holes, Photocopy The Back And Use As A Template
#3 Seal Any Bag Tightly
#4 Use A Slinky To Stop Squirrels From Eating Bird Seed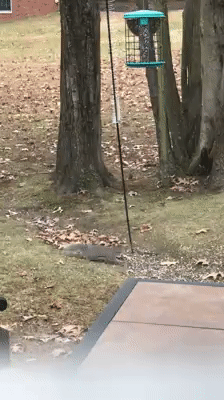 #5 Use Legos As A Cable Holder
#6 If You're Moving, You Can Use This Method To Easily Transport All The Clothes That You Hang
#7 We've Used A Small Tent To Make A Sandpit, It's Now Shaded & We Can Close It Up At Night To Keep The Neighbours Cats Out & It Also Stops The Grass Growing Through
#8 Smear Peanut Butter On Your Shower Wall To Distract Your Dog In The Bath
#9 How To Include Everyone (Even The Person Taking The Photo) In A Picture
#10 How To Feed Four Puppies At The Same Time
#11 This Kid On A Longboard Using A Leaf Blower To Go Fast Is Now My Personal Hero
#12 If It's Stupid And It Works, It Ain't Stupid
#13 Coffee Freshness Hack
#14 Hide Your Spare Key
#15 Pop A Stocking Over The Head Of Your Vacuum Cleaner To Find Small, Missing Items
#16 I Trusted My Husband To Clean-Up From Christmas Last Year. This Is What I Discovered When I Went Down To Our Basement To Begin Decorating This Year. He's So Proud! I Can't Decide: Life Hack Or Lazy?
#17 My Girlfriend Devised A Way To Keep The Plastic Shopping Bags We Re-Use As Bin Liners In Place By Using Removable Picture Hooks
#18 I Hang My Shirts Like This To Save Room. A Life Hack I Learned From Watching Tokyo Drift
#19 Life Hack: Put Ice Cream In Your "Empty" Nutella Jar
#20 Use An Old Iphone And A Generic Facebook Account As A Monitoring Service. Wanted To Ensure Our Baby Chickens Were Okay So I Facebook Lived It Under Private For 24 Hour Monitoring From Anywhere
#21 Mount An Ipad Or Tablet With Some Command Hooks For An Easy TV Or Night Clock In College. Just Slide It Out For Use!
#22 Least Messy Way To Eat Watermelon
Source: Bored Panda